Original source: CycleNews.com
This Cycle News Archives Column is reprinted from the March 17, 2010 issue. CN has hundreds of past Archives columns in our files, too many destined to be archives themselves. So, to prevent that from happening, in the future, we will be revisiting past Archives articles while still planning to keep fresh ones coming down the road -Editor.
The (Honda) Hawk In The Hen House
The AMA's Battle Of The Twins (aka Pro Twins) Modified class was introduced in 1982. It was a relatively quiet class featuring lightly modified Moto Guzzis, Harley-Davidsons, Ducatis, BMWs, and a few other oddball or outdated bikes. While the main Pro Twins GP class had some star power—with Jimmy Adamo, Gene Church, Dale Quarterley and Randy Renfrow—realistically, the Modified class was a laid-back place where club racers could play on the same track as the big boys during AMA Pro weekends.
Champions of the BOTT Modified class included Joey Mills III, David McClure, Doug Gross and Pete Johnson—all fine racers, but none likely to draw a big crowd at an autograph session. Everything was going along swimmingly in the low-key class until a brash pair of brothers from L.A. came barging in with a suspiciously factory-looking (and factory–performing) machine. A Hawk had found its way into the hen house, in the form of Kevin and Craig Erion's inspired Two Brothers Racing Honda Hawk GT.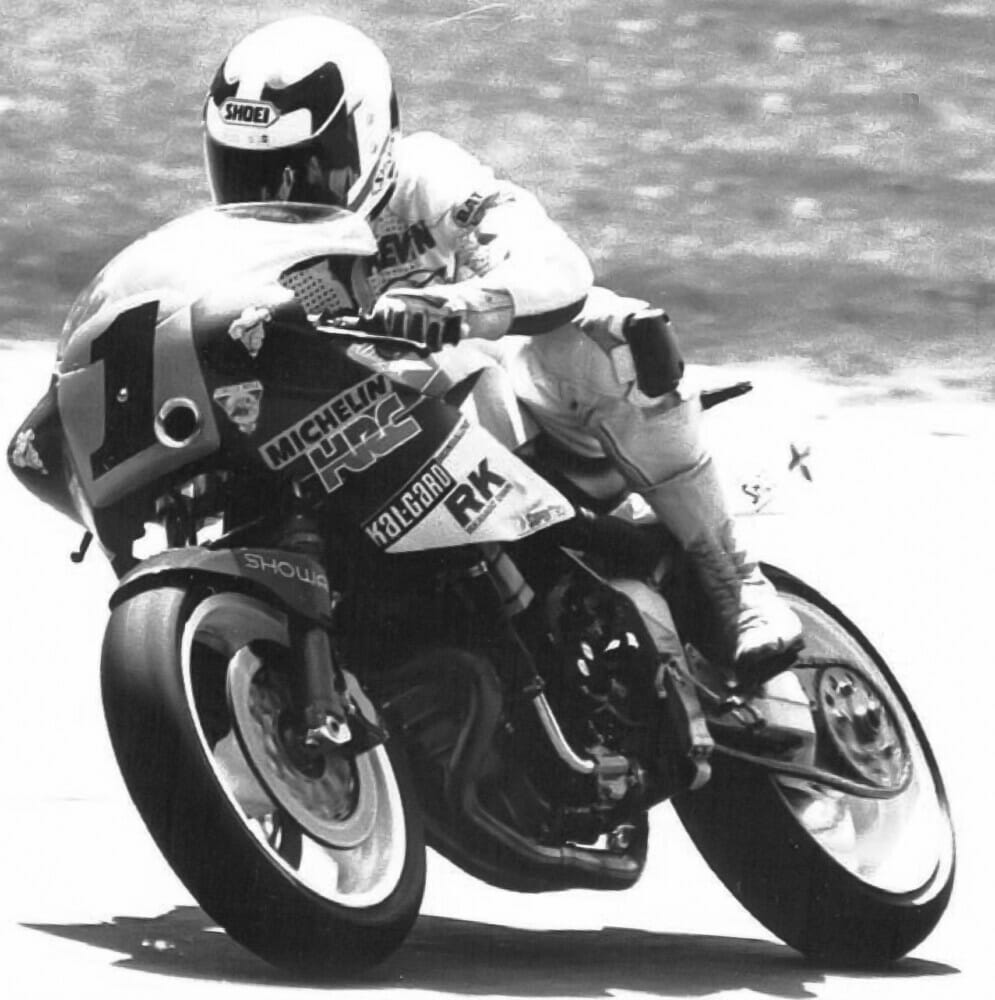 Kevin Erion swept five straight races on the "mild-mannered" Honda Hawk.
It all started when Craig, who owned a construction company, while his little brother Kevin had a business installing alarm systems in cars, wanted to attend former AMA Superbike Champion Reg Pridmore's riding school, but he didn't want to do it alone.
"Craig called me and said he was going to a Reg Pridmore school, and he wanted me to come, too," Kevin recalls. "[He said] 'You have to have a BMW, though, so go buy one so we can do these schools together.'"
It sounded like a plan to Kevin, so he dutifully bought a Beemer, and then it was off to Riverside International Raceway for the school.
"That was it," Kevin says. "We were hooked."
The Erions soon evolved from paying school students into volunteer instructors. Then Kevin got hooked up with some buddies from Del Amo Motorsports and bought a Ducati F1, and he began club racing. The hours he spent on the track as a volunteer instructor with Reg Pridmore served Kevin well. He immediately became one of the faster Southern California club racers and won a class championship in his first full season.
Both Erion brothers were good racers, but Kevin was a bit faster, so he became the team's lead rider. After winning the club title, Kevin went off to try his hand in the Pro ranks, specifically in the Pro Twins Modified class. And he shook things up. Not only did Two Brothers Racing enjoy immediate success (Kevin won his very first Pro event at Daytona in 1988), they also looked the part, with their team van and trailer painted up in matching colors. The crew was color-coordinated, as well, wearing team gear and easily becoming the best-looking Pro Twins Modified team on the grid.
If that didn't ruffle enough feathers, Kevin went on to tally a class-leading three National wins in his rookie year en route to the championship. How dare this young whippersnapper come into this little class and not only look good but take all the accolades as well!
Kevin seriously considered not racing in 1989. He'd done what he wanted to do—win a Pro title. But Craig was, once again, conspiring to keep his little brother in the game. Craig came up with the idea of taking a mild-mannered Honda Hawk (a beginner's bike with an under-powered 650cc V-twin engine) and making it into a race bike. It was just the kind of challenge little brother Kevin could sink his teeth into.
Former factory Honda tuner Mike Velasco was lending his expertise to the project, but they had major teething problems early on.
After the first two rounds in 1989, Kevin had nothing to show for his efforts—no points, and three broken engines. A poorly braced cam-chain tensioner turned out to be the problem. Once that was fixed, the bike became reliable. And with work, that little mild-mannered Hawk became an incredibly fast and sharp-handling Two Brothers rocket ship. Kevin became untouchable in the Modified class: From Loudon on, he swept five straight races.
Along the way, Craig Shambaugh, a Ducati contender who broke out to a big early lead in the championship and suddenly saw Erion closing in fast, just knew the Two Brothers bike couldn't be legal. Also, the guys were obviously factory; they had Mike Velasco, for God's sake! Protests began flying, but Velasco was a master at "interpreting" the loosely written rulebook.
"The problem was, the rulebook was vague," Kevin laughs. "For example, the rules said the bike had to have the original headlight bucket. We had it; it was just cut up and put it in a baggy under the seat—but it was there."
All the protests ultimately bounced off the Two Brothers Honda, but Kevin still needed some help going into the last race of the season, in Topeka, Kansas. He needed to find someone who could come and race the backup Two Brothers Hawk and finish between him and Shambaugh. Fortunately, through Kevin and Craig's association with Reg Pridmore's school, they had some fast buddies.
"We called this guy Kenny Greene," Kevin says. "Greene was this older, maybe in his late 30s, fast Willow Springs club racer. I called him up and said, 'Kenny, I need your help. I need you to come to Topeka and race our second bike. And, oh yeah, I need you to finish between me and the Shambaugh guy so I can win the championship.'
"In the race, Kenny actually was in front of me, the bastard," Kevin continues. "I was out there racing for a championship, and he was there just having fun. I was tighter than you-know-what because my nerves were so shot, and he finally pulled over at the end and let me by."
Along with a fun advertising campaign (featuring a cartoon character, "Hawkman," taking aim at all the Ducks) that ran in racing publications, that little Hawk GT helped launch the successful Two Brothers Racing company. Inspired by Kevin's success and the relatively cheap entrée into road racing the Hawk provided, the bike exploded on the club-racing scene, and to this day it has a cult following. Two Brothers began selling parts to service those club racers, and the business took off from there. Eventually Kevin branched out on his own to start Erion Racing.
Kevin says that ideas from the Hawk also helped inspire the engineers at Honda.
"They took a real interest," he notes, "and two Honda engineers who came over to look at what we were doing eventually were the guys who developed the RC51."
Kevin and Craig developed a bigger version of the Hawk using a 750cc Twin from the Europe-only Honda Africa dual-sport machine and moved up to Pro Twins GP1. Kevin did very respectably, finishing third overall in the championship, behind Ducati stars Jamie James and Jimmy Adamo. Kevin feels his biggest accomplishment was beating 1987 BOTT champ Doug Brauneck, who was riding Dr. John's Moto Guzzi, at Loudon.
"At Loudon, the little Hawk was just more maneuverable," Kevin says. "I consider Brauneck a better rider than me, but I was able to get around him and finish on the podium because our bike handled so well."
That little Two Brothers Hawk GT became so famous that it would certainly be considered a major collector's item today but being racers and never thinking about history, the Erions sold the Hawk to an enthusiast in Guam shortly after retiring the bike.
"I know where the bike is today," Kevin says. "I told the guy if he's ever interested in selling it to call me and give me the chance to buy it back." CN
---
back to the other articles